Residential Projects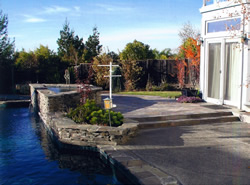 The experience each licensed landscape architect gains from four years of training in an accredited university, an internship of at least four years, and successful completion of a three-day test can save you time and money. This experience allows only landscape architects to legally prepare plans that other contractors can provide bids on. Thinking of having a landscape contractor prepare plans for you? Maybe you should think again. The location of one poorly placed landscape feature can easily justify the cost of a landscape architect. Also, the State of California regulates Landscape Architects should you have a complaint.

Design/Build:

Having a design/ build company design your space means that the design intent does not get lost during execution. Also, little things important to your project get included naturally. They do not have to be forgotten!

Natural Materials:

We prefer to use natural materials as often as possible in our construction. This gives your project the appearance of style and class found in old Europe. When you look at the projects in our portfolio, we think you'll see the the difference between us and other designers. Please, call Alder Landscape Architecture today!