LOW VOLTAGE LANDSCAPE LIGHTING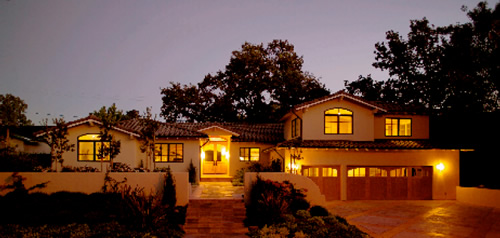 Recently, low voltage landscape lighting has become even more efficient than before! Today, LED lights are available that use half the energy of halogen low voltage lights. LED lights are more expensive than halogen low voltage lights originally, however, over time they provide a cost savings after the second year.
Low voltage landscape lights are often installed incorrectly by providing too many fixtures. Now, that cheap solar lights are available with very dim light production, the problem has become even worse. Low voltage landscape lights need to be placed at the beginning of a walk, at a point of change of direction and at the conclusion of a walk. More lights than this bring the eye to the lights and not the landscape. If the walk is too bright, than low-voltage lights to accent landscape features, are diminished. The silhouette of an interesting tree can be a very dramatic at night!
Low voltage lights are best placed on stair walls, so that more stairs are illuminated, than in the stairs risers. Also, it is best to have low voltage wire placed in conduit when in concrete, since the harsh chemicals in concrete can dissolve the plastic wire casing and render the lights useless. Sadly, once the low voltage wire is compromised, there is no way to correct the problem.
We hope this information is useful and we ask you to call Alder Landscape Architecture for your low voltage landscape lighting today!